Punjab's Minister Navjot Singh Sidhu has resigned from his post. Navjot Singh Sidhu has sent his resignation to the Congress President. They tweeted on Sunday and informed about it. Although Navjot Singh Sidhu had resigned on June 10, this has been disclosed today. Sidhu said on Sunday that he is sending his resignation to the Punjab Chief Minister.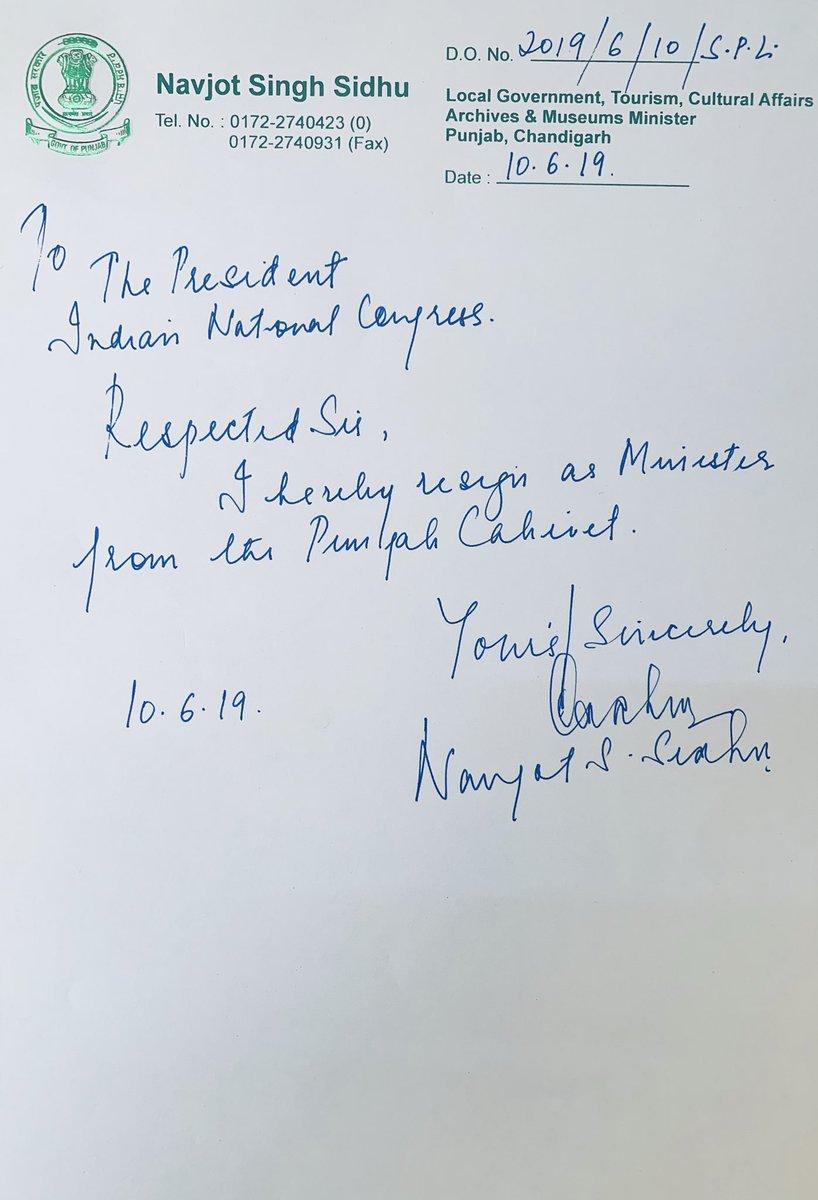 In Punjab, there was a series of troubles between Chief Minister Amarinder Singh and Navjot Sidhu. In the Lok Sabha elections, the Congress did not get enough seats in Punjab, Amarinder Singh had a screw on Sidhu and demanded action against him from the Central High Command. Not only that, but the Chief Minister had also changed the post of various Ministers including Sidhu in the first meeting of the Cabinet on 6th June after the Lok Sabha elections.
Sidhu had a local self-government department earlier, but now he had energy and innovative and renewable energy portfolio, but he did not take charge of the minister or joined the meeting. Since then, there was speculation about Sidhu's continuation, who made himself public to offer his resign on Sunday. In the last meeting, the Chief Minister also took responsibility for the tourism and culture issues from him. It is important that Sidhu has sent his resignation to the Congress president while sending the resignation to the governor. It would be interesting to see if his resignation is approved and whether he remains in the cabinet or not.
Kharge Navjot Singh Sidhu met the then party president Rahul Gandhi with Chief Minister Amarinder Singh. The Chief Minister had changed the post of Sidhu, but he did not accept his position and met Rahul Gandhi and Priyanka Gandhi. Sidhu tweeted, "Meet the Congress President, give him his letter and give him the information about the situation." He also posted a picture with tweets, in which he stood with Rahul Gandhi, Priyanka Vadra Gandhi, and Ahmed Patel.